---
NACUQU E LEWE NI HSBC DREAM TEAM.
Written by Meliki Kuila on August 30, 2022
Kavetani ni timi ni cauravou lewe yavitu ni noda vanua o Waisea Nacuqu e dua vei ira na lewena na HSBC 7s 'Dream Team', ni oti na kena laurai na vakasakiti ni nona qitoqito ena buturara ni rakavi lewe yavitu mai na yabaki 2021-2022.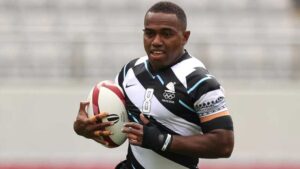 Nacuqu e ratou lewena vata na 'HSBC DREAM TEAM' kei Corey Toole kei Malouf mai na timi ni Australia, Marcos Moneta kei Luciano Gonzalez mai na timi ni Argentina, Terry Kennedy mai Ireland kei Zain Davids mai na timi ni South Africa.
Toole e a ciqoma na 'Rookie of the Year Award' kei na DHL Impact Player Award, ka taura o Kennedy na "Top Try-Scorer".
VureVure: fijivillage
Vakarorogo tikoga mai ena VITIFM 92.2/92/92.6 FM
---
Reader's opinions
---