---
Nanamaki o Sevu Reece ena sota kei na timi ni Drua.
Written by Atu Kurumudu on May 19, 2022
Rau veivolavolai voli ena mona livaliva na veitacini o Cyril Reece [30] kei na wing ni All Blacks -Sevu Reece [25] , ka kaya tiko mai o Sevu vei Cyril ni a rawa saraga mei rau veisa ena bogi ni Vakaraubuka.
Dina ni na qito tiko ena timi ni Crusaders o Sevu , vei tuakana o Cyril ena saravi koya tu ga yani.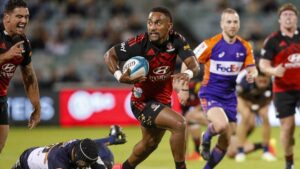 Ia , a rawa saraga vei rau na veitacini me rau vakasota ena qito oqo mai  Christchurch.
Oqo na mala ni vosa nei Sevu – "My older brother, he used to play for the Fijian Drua,'' Reece said on Wednesday. "Just this year he stopped playing because he's just had a little baby."I've been messaging him every time now, saying: 'Oh man, I could have been playing against you this Friday.''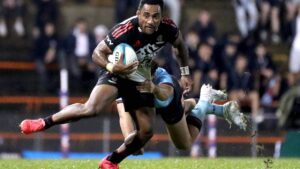 Sa vakaraitaka saraga o Reece vei Scott Robertson na coach ni Crusaders , ni na sega ni via calata na nodrau na sota na Drua kei na Crusaders.
source:stuff.co.nz
---
Reader's opinions
---