---
VEISAU NA 'ELIGIBILITY' RULE VEI IRA NA CAURAVOU MAI ENA CEVA NI PASIVIKA – WORLD RUGBY
Written by Atu Kurumudu on November 25, 2021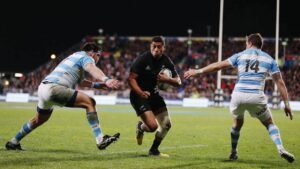 Ena vakacava tu beka kevaka e ratou qito mai na timi ni Toga na cauravou ka ratou sa matakataka oti na timi ni All Blacks me vakataki -Charles Piutau, Malakai Fekitoa kei Vaea Fifita ena sotasota levu ni vuravura ka tarava.
Mai na timi ni Samoa ko Lima Sopoaga, Julian Savea kei Steven Luatua.
Qo e dua nai tukutuku rogorogo vinaka vei ira na cauravou dau qito era gole yani ena veiyanuyanu ena Pasivika mera matataka na vanua era sucu mai kina se sema bula kina.
Ena Janueri 1 , ni yabaki mai oqo esa na veisautaka tiko na World Rugby na lawa me rawa nira mata-taka mai na nodra vanua o ira kece sara na cauravou kara sa mataka oti na veitimi eso ena veiyasai vuravura.
Toka era e vica na ka ena gadrevi ki vua e dua na dau qito –
THE RULE
From 1 January, 2022, in order to transfer from one union to another under the revised Regulation 8 (eligibility), a player will need to achieve the below criteria:
The player must stand-down from international rugby for 36 months
The player must either be born in the country to which they wish to transfer or have a parent or grandparent born in that country
Under the revised Regulation 8 criteria, a player may only change union once and each case will be subject to approval by the World Rugby Regulations Committee to preserve integrity
After 1 January, 2022, any player who meets the above criteria can apply immediately for a transfer.
The Regulation 8 revisions will also align the "age of majority" across 15s and sevens. All players will now be 'captured' at 18 years of age to simplify the Regulation and improve union understanding and compliance.
Source: stuff.co.nz
---
Reader's opinions
---